Re-cycle, re-use: we give a second life to disused nautical sails
From sails to the bag with creativity: unique pieces as unique is every sail. Sailmakers since 1959.
The idea of transforming sails into bags and accessories as well as an aesthetic value, it preserves that magic that we call adventure.
Kevlove, a bag in every port: pure energy from Lake Garda!
The dream of a woman and her feeling of life. How the sail, the wind and the water feel.
Kevlove is created by Elena Filippini's artistic wit. This line of bags, purses and fashion accessories finds its roots in Elena's family tradition and buisiness. Her father, a sailing passionate, founded Veleria Velnova in 1959 in the small town of Bogliaco on the shores of Lake Garda.
The sailmaking laboratory was born of Mr. Gino Filippini's own strenght and willingness to invent his ideal job. Noone taught him how to  make sails. It all began with a concotion of inborn skills, creativity and intuition, all of this animated by his desire to porsue a dream. It is such determination that guides the youngest of  his three daughters, Elena. She blends the power of a strong tradition with revolutionary ideas,thus inventing her own style. Kevlove allows Elena to livr an experimental journey as it offers a new perspective with a flavor of history.
Kevlar, dacron, and nylon are sail materials that, along with hooks, pulleys, and other sailing hardware, are given new lives. Such  components are transformed by the designer's feminine touch, becoming stylish items that offer an unseen and futuristic vision of the sailing world. Curious bags, elegant  purses, innovative belts, hats, and other fashionable accessories are all uniquely created.
The name KEVLOVE is meant to evoke technicality and love, rationality and completeness.
KEV is for kevlar, an unusually strong and lightweight material typically used in the sailing world. And LOVE expresses the passion which supports this project and its bond to a family tradition. Together they embrace the past and the present, carrying on the name of a brand and a family.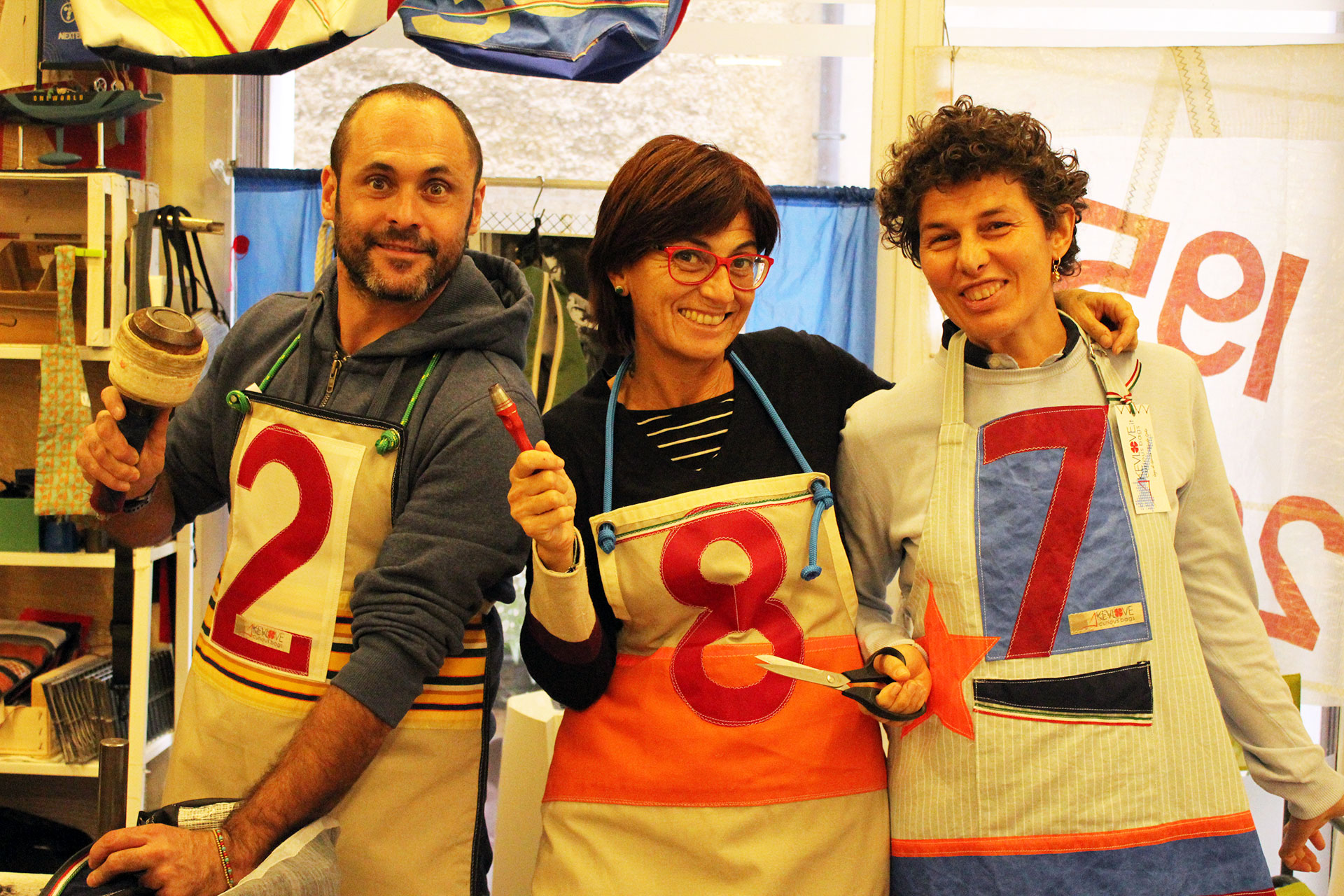 Why choose Kevlove?

The value of a Kevlove product is not only in its great quality or in its uniqueness.
The value of a Kevlove product has many facets: firstly, it comes from the past of our family.
Our 60 years of experience in sailmaking helped us having a complete knowledge and competence of all the nautical fabrics, yarns and components. That's why our products are definitely unique and inimitable. No one who tries to approach into this world will never have our long time experience.
Yarns, studs and all the machinery we use today are the ones we had in our sailmaker shop "Velnova" owned by Gino Filippini, our dad. He handed down his ancient knowledge to us. He embarked in this new adventure together with us, showing great skills and far-sightedness.

Since the very beginning, one of the most important side of our job is the recycle of old materials, very hot topic today. This is a gesture of care and kindness towards our Earth.
Our bags have always been produced with materials and products, that otherwise would be disposed of. We collect all the sails fallen into disuse, we carefully check and wash them and we give them a new life.
But that's not all. The old sails have to be restored and reinforced with strong and new fabrics. Even in this case we use recycled sails. Are you wondering how? Thanks to our own sailmaker shop and our long experience, we well know that in order to create a new sail, many fabrics and dead stock materials are thrown out. Today, from our "Velnova Fly" sailmaker shop, owned by Silvia Filippini, we gathered all the discarded fabrics and we use it for our beautiful and smart products.
We add to all of this a lot of creativity, time, patience and experienced hands and we produce high quality and most of all, unique and fashion bags, luggage, accessories and furnishing items. You can be fashionable and make informed purchasing at the same time, in full respect of nature.
Be smart, choose Kevlove!